Human Genetics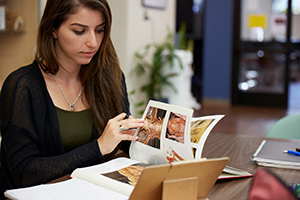 Description: This course will examine trait inheritance and the mechanisms by which different traits propagate. This will require an analysis of Mendelian genetics and its extensions. Chromosomal mutation will be investigated, and a more in-depth analysis of replication, transcription, and translation will be offered than in past courses. A closer look at cancer will be offered, as well as a brief analysis of the ethics of biotechnology. It will address the human nature of genetics, genetic development and health and wellness areas related to how genes interplay within the human organism. Historical concepts in research and genetic developments will be explored. Additionally, concepts related to ethics and genetics, research and application will be explored. Students will learn how genes influence physical traits, physiological considerations, and issues related to health, wellness and related applications.

Registration for this course includes lecture (GEN331) and lab (GEN331L).
Upcoming Hybrid Course Offerings (Lecture Online with 4-day Intensive In-Classroom Lab):
Nov 14, 2019 - Dec 18, 2019 (in-classroom lab MTW 12/2 through 12/4 (8am-5pm), Thursday 12/5 (8am-10:30am))

Highly Recommended Prerequisite: Biochemistry (BIO322 and BIO322L) or equivalent
Lecture Hours: 45
Lab Hours: 30
Total Units: 4
Course Format: Accelerated Science Courses take place in 4 or 5 weeks. Classes and laboratories are offered in many formats such as daytime, nights, weekends, in-classroom, hybrid (classroom and online), and 100% online. All courses repeat regularly, giving many opportunities to complete the course(s) you need.
Classes fill quickly, so please do not wait to apply. Students are registered on a first-come, first-served basis. All courses are listed in SCU publications and the application regardless of the current number of registrants. Registration is not confirmed until an email is sent. If you do not receive a confirmation email, please confirm registration by emailing [email protected].