Human Anatomy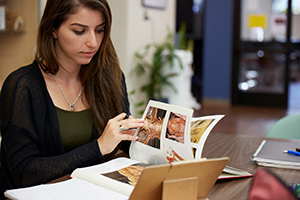 Description: This course is a rigorous anatomy course designed for health sciences and physical education majors. It covers the gross and microscopic anatomy of the human body. Course topics begin with an introduction of anatomical terminology and tissue classifications, followed by the structural and functional anatomy of the organ systems (integumentary, skeletal, muscular, nervous, endocrine, cardiovascular, lymphatic, respiratory, digestive, urinary and reproductive systems). A structure-function approach provides the background to achieve the learning objectives for the course, which are concepts necessary in understanding the human body and in professions such as medicine, physician assistant, chiropractic, dental hygiene, pharmacy, nursing, physical therapy, sports and leisure studies, and other medical related fields. Laboratory includes work with microscope, Anatomage table, human body models, and cadavers.

Registration for this course includes lecture (BIO251) and lab (BIO251L).
Upcoming 100% In-Classroom Course Offerings:
Oct. 20, 2018 - Nov. 14, 2018 (Saturday/Sunday)

Upcoming Hybrid Course Offerings (lecture online with 4-day intensive in-classroom lab):
Sep. 20, 2018 - Oct. 17, 2018 (in-classroom lab MTW 10/1 through 10/03 (8am-5pm), Thursday 10/4 (8am-10:30am))
Nov. 15, 2018 - Dec. 19, 2018 (in-classroom lab MTW 12/3 through 12/5 (8am-5pm), Thursday 12/6 (8am-10:30am))

Prerequisites: Any Biology Course
Course Format: All Accelerated Science Courses take place in 4 or 5 weeks. Classes and laboratories are offered in many formats such as daytime, weekend, and hybrid. All courses repeat regularly, giving many opportunities to complete the course(s) you need.
Classes fill quickly, so please do not wait to apply. Students are registered on a first-come, first-served basis. All courses are listed in SCU publications and the application regardless of the current number of registrants. Registration is not confirmed until an email is sent. If you do not receive a confirmation email, please confirm registration by emailing [email protected].